Johnson City, Tennessee
Getting By With A Little Help From My Friends
Welcome to Get Lost, a newsletter by Real Queer America and Love & Estrogen author Samantha Allen. Named after the 1995 Magnetic Fields album, Get Lost explores unsung and undersung places, people, and texts through a personal lens. This fourth entry takes you to Johnson City, Tennessee. Enter your email below to subscribe!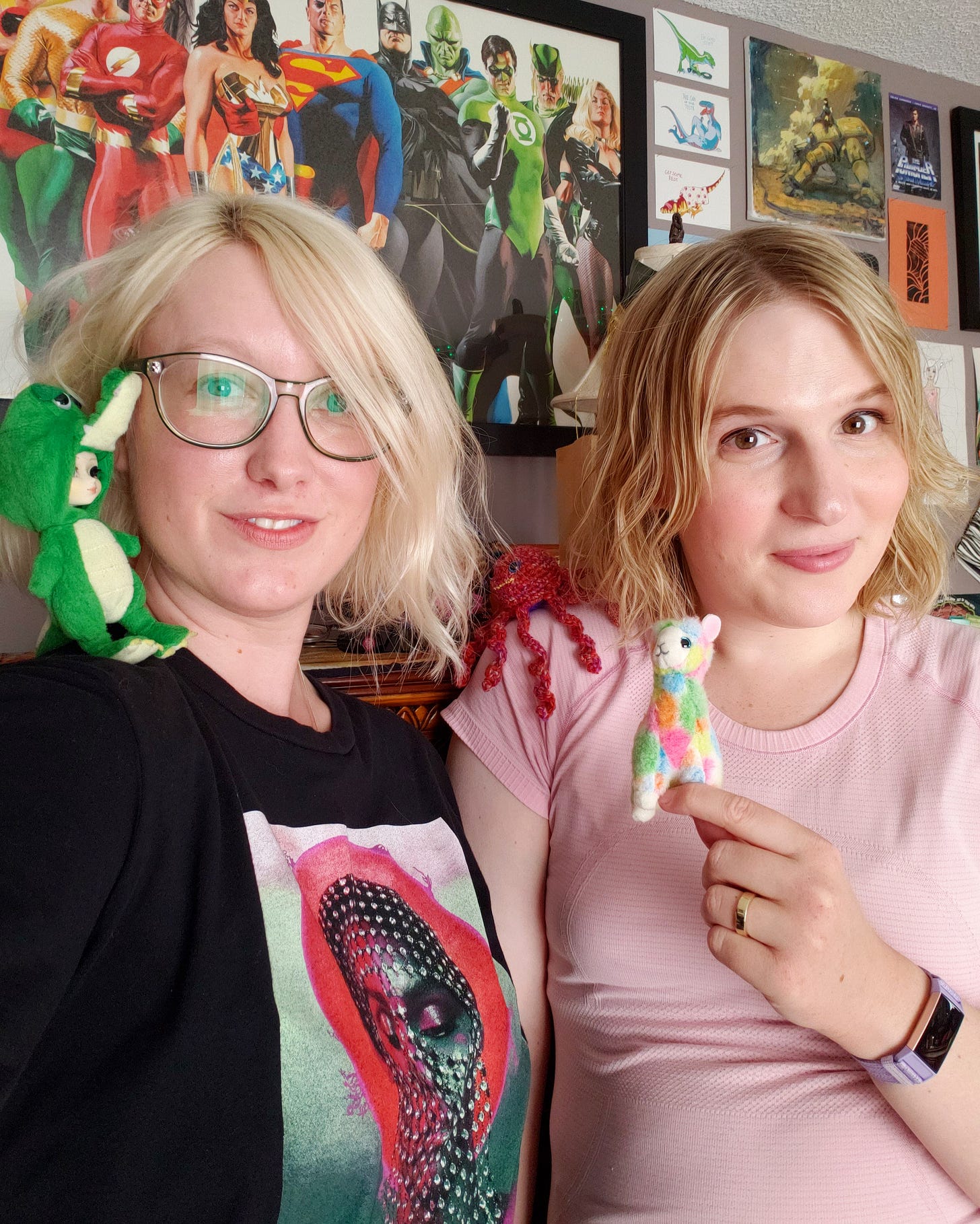 On the main drag in Johnson City, Tennessee, there's an eye-catching aqua-colored restaurant called Pal's Sudden Service that changes the message on its roadside sign every day.
"Go to a museum," it instructs me on the mild November day that I roll into town in my rented Corolla.
That's an especially funny command coming from a restaurant that has jumbo-sized versions of fast food staples built into its façade: A hamburger, a hot dog, a soda, and a small bag of french fries tower over you as you drive past. But it's an order I'm happy to obey—in a sense.
Jennifer Culp and Justin Mitchell's small A-frame house isn't quite a museum, but it is full of art, the windows covered with prisms, the shelves populated with dolls, knickknacks, and kaleidoscopes. I struggle with actual museums. If I try to sit down, to live in a moment as I'm living it, to surrender my perception to my surroundings, I start getting and itch. My mind wanders and it's not long before my body follows: into the gift shop, out the exit, and on to the next activity.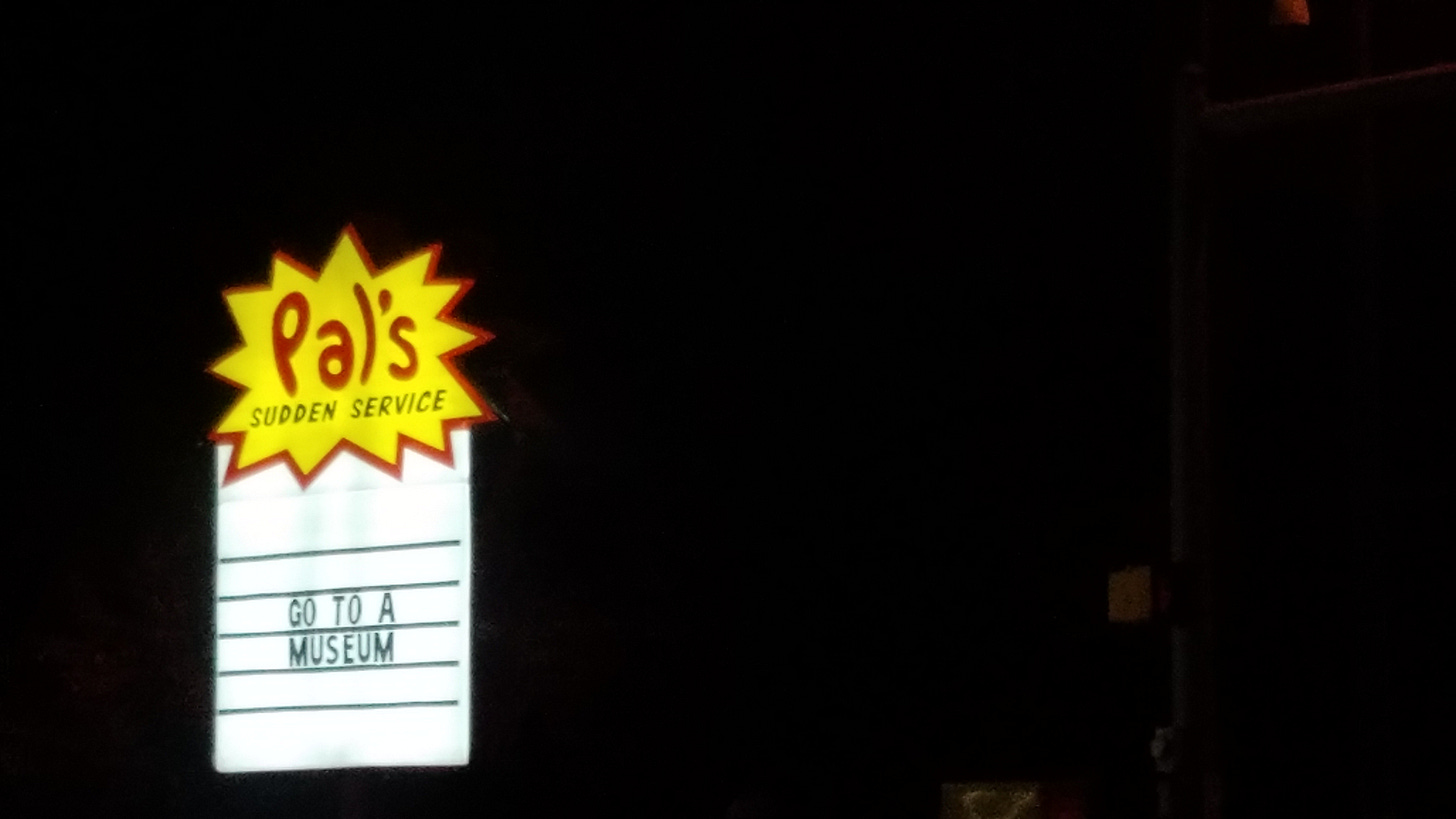 I think that quality makes a bad friend. Sometimes when I'm out to eat with a loved one, I catch them looking over their own shoulder to try to see what I'm starting at off in the middle distance. I'm physically there but sometimes my head isn't. Too often, when I think back to the time I've spent here in Johnson City with Jennifer Culp, for example, I remember having done things more than I remember doing them. We went to the New Beginnings nightclub that one night and we took that day trip to Dollywood and we hiked to the top of Roan Mountain once, no twice—hell, I wrote an entire chapter of a book about this place—but how deeply did I allow myself to experience the potential joy of those moments? What use are memories if you can't close your eyes and replay them—if all you can do is reassure yourself of their facticity?
Call this return trip to Johnson City repentance, then. 
I wish it didn't take effort for me to be present but it does: Upon arrival on a Friday afternoon, I greet Jenn and Justin's three dogs—two big German shepherds named Doc and Red, plus a yappy little youngster named Lily—subduing them with baby carrots on the back porch so that they don't jump on me. Instead of thinking about getting my bag out of the car and taking it inside, which is what I would usually do, I try to find pleasure in this necessary ritual. I throw a carrot high up in the air and watch Doc leap for it, his jaws monstrously agape, before he clamps down on his prize and reverts back to an almost puppy-like state, lowering his whole body to the ground to prepare for his next gravity-defying acrobatic maneuver.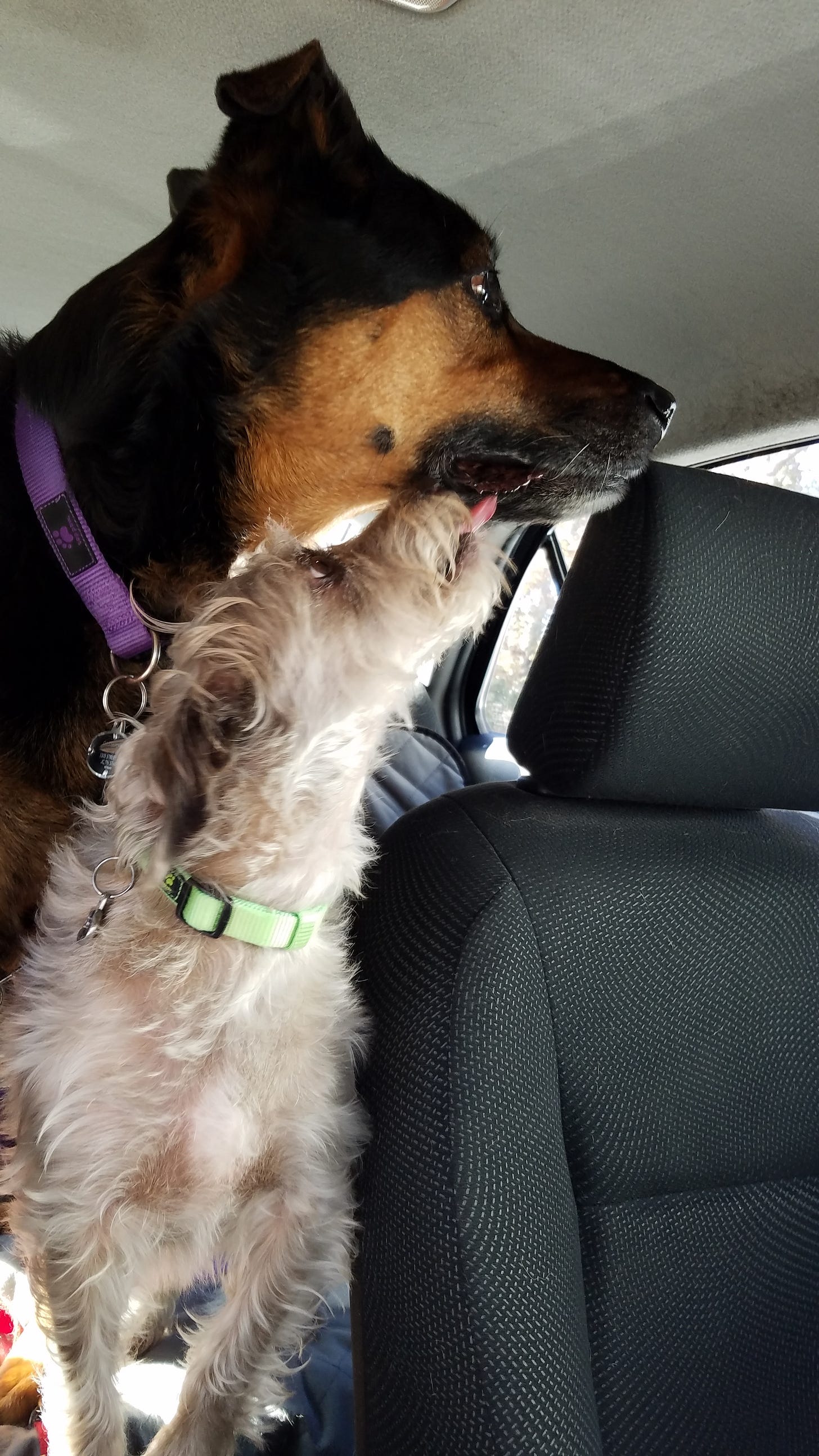 Much like these dogs, I need to be walked. That has been one of my friendship workarounds: If my body is moving—if I feel like I have a goal, an endpoint—it's easier for me to relax and talk. So long as my feet are headed somewhere, I can catch up with Jenn on a late afternoon stroll with the dogs, our conversation meandering from Bachelor gossip to relationship talk in much the same way that Eastern Tennessee roads wind lazily through and over the hills. Once again, there is a ceremony to attend to: Whenever we pass other dogs on the Tweetsie Trail, I have to pick Lily up and race ahead in order to break up the pack mentality thereby avoiding possible confrontations. (Lily believes she's much bigger than she is and Doc thinks he's just a baby.) Up goes Lily, forward goes me, down goes Lily, and then here comes Jenn, Doc, and Red. Then a new dog comes along and we do it all over again.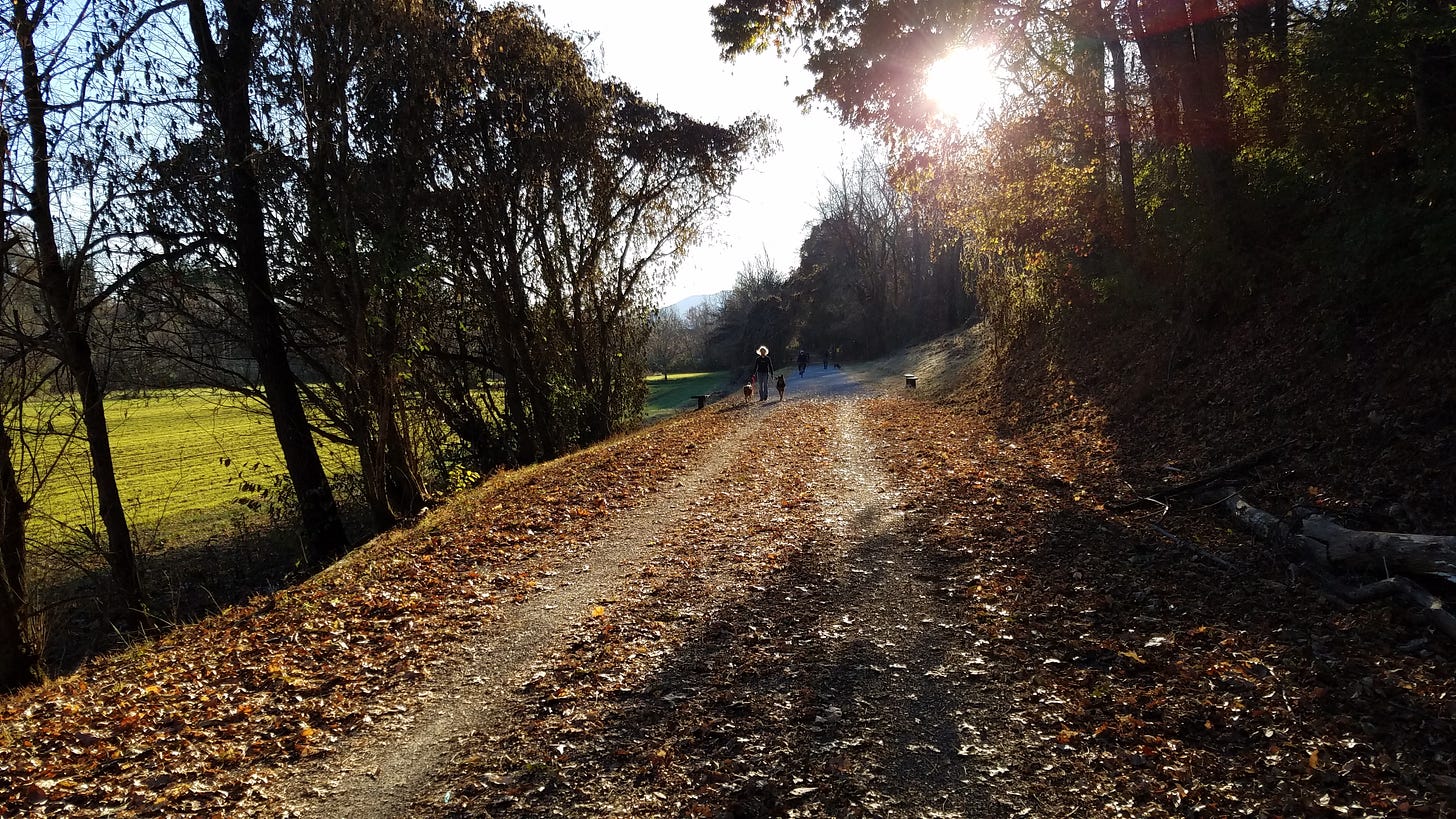 Johnson City, Tennessee is a good place to practice being undistracted. After our walk, Jenn and I have a late lunch at El Charolais, which is perhaps the best strip-mall Mexican restaurant I have ever patronized. I leave my phone in my pocket and dig into a plate of grilled chicken, yellow rice and tortillas. It is delicious—its menu name is, in fact, "sabroso," which means "tasty"—but not in an arresting way: you have to appreciate this well-worn combination for what it is, instead of looking for novel flavors.
That's where I get into trouble with other people, I think: I want stimulation. I crave it. Call it restlessness or smartphone addiction or undiagnosed ADHD, but I am in constant search of newness. The trouble with friendship is that its very foundation is familiarity. It requires you to embrace the old.
So for the first time on this, my umpteenth trip to Johnson City over the last seven years, I try to appreciate the traditions that Jenn and I have established over that time, instead of treating them somewhere in the back of my mind like items to cross off a checklist. And maybe it was because I am just caffeinated or well-rested or in a particularly good mood, but I swear everything feels a little sharper: the fall is that much crisper, the Guinness-marinated onions on my late-night Mid City cheeseburger just a bit mellower, the contrast between the rust-orange foliage and the evergreen pines a touch sharper. Most importantly, I feel like I see Jenn and she sees me. There are no phantoms over her shoulder this time.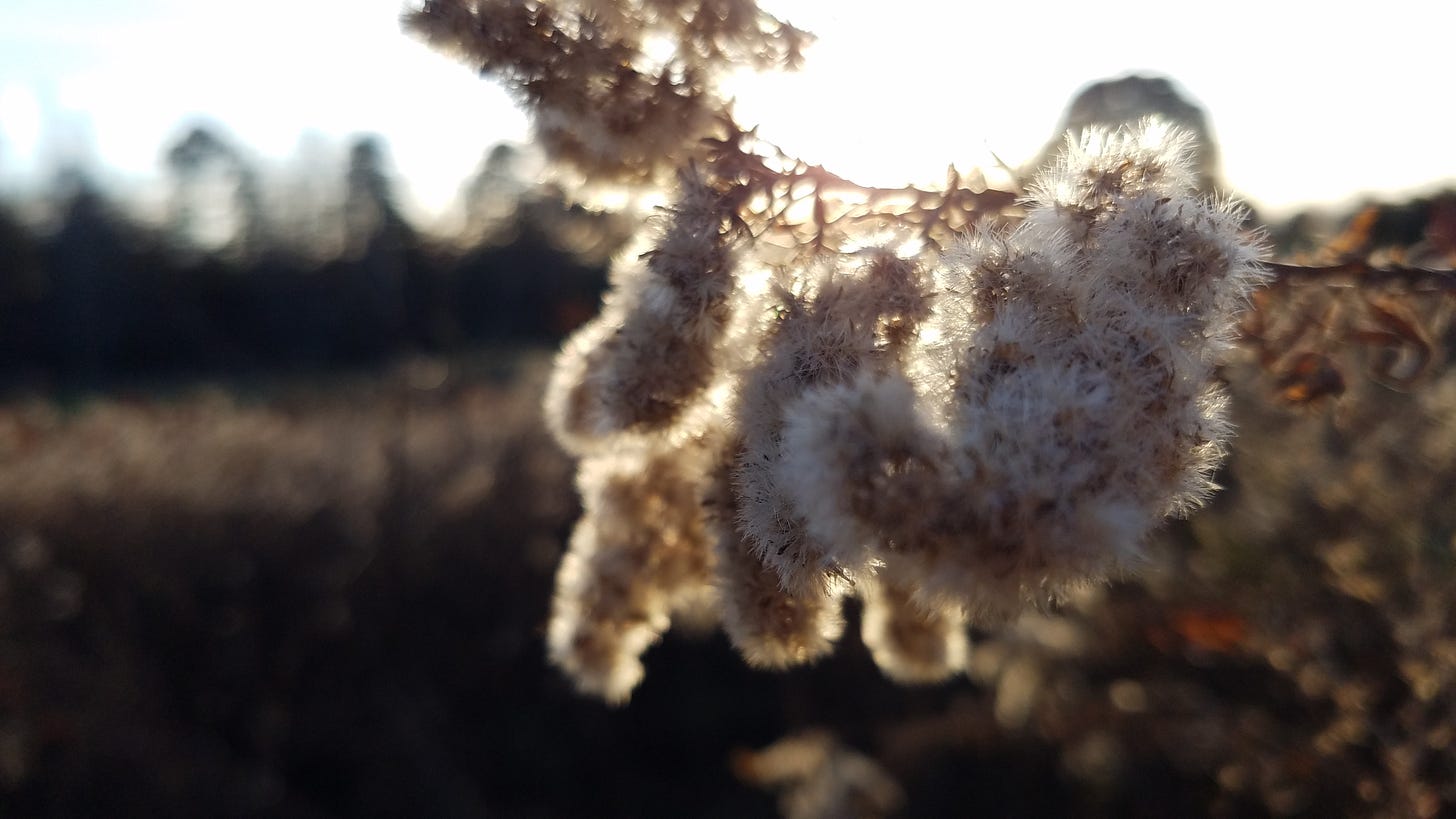 Once you push past that itch, I am learning, you find something more rewarding than novelty: permanence. The moments actually stick instead of becoming just another thing you did. For a whole weekend, I try to let each hour settle into my soul, whether it's walking the dogs late at night wearing Justin's oversized army surplus jacket, talking with my artist friend Taylor about pink pigments at the Johnson City Punk Flea Market, or sitting on a porch swing at night with Taylor's partner Jeff thinking about just how special this city of 70,000 can feel. I meet two new friends—a gay couple—over dinner at a local schnitzel place and I dip as deep into their backstory as we do into the herb-chive butter the restaurant serves with their bread. (They met at a historical murder mystery party here in Tennessee where one came dressed in drag as Cleopatra and the other, fittingly, portrayed Marc Anthony. I'll never forget that. I thought I had a pretty good meet-cute story until I found this couple.)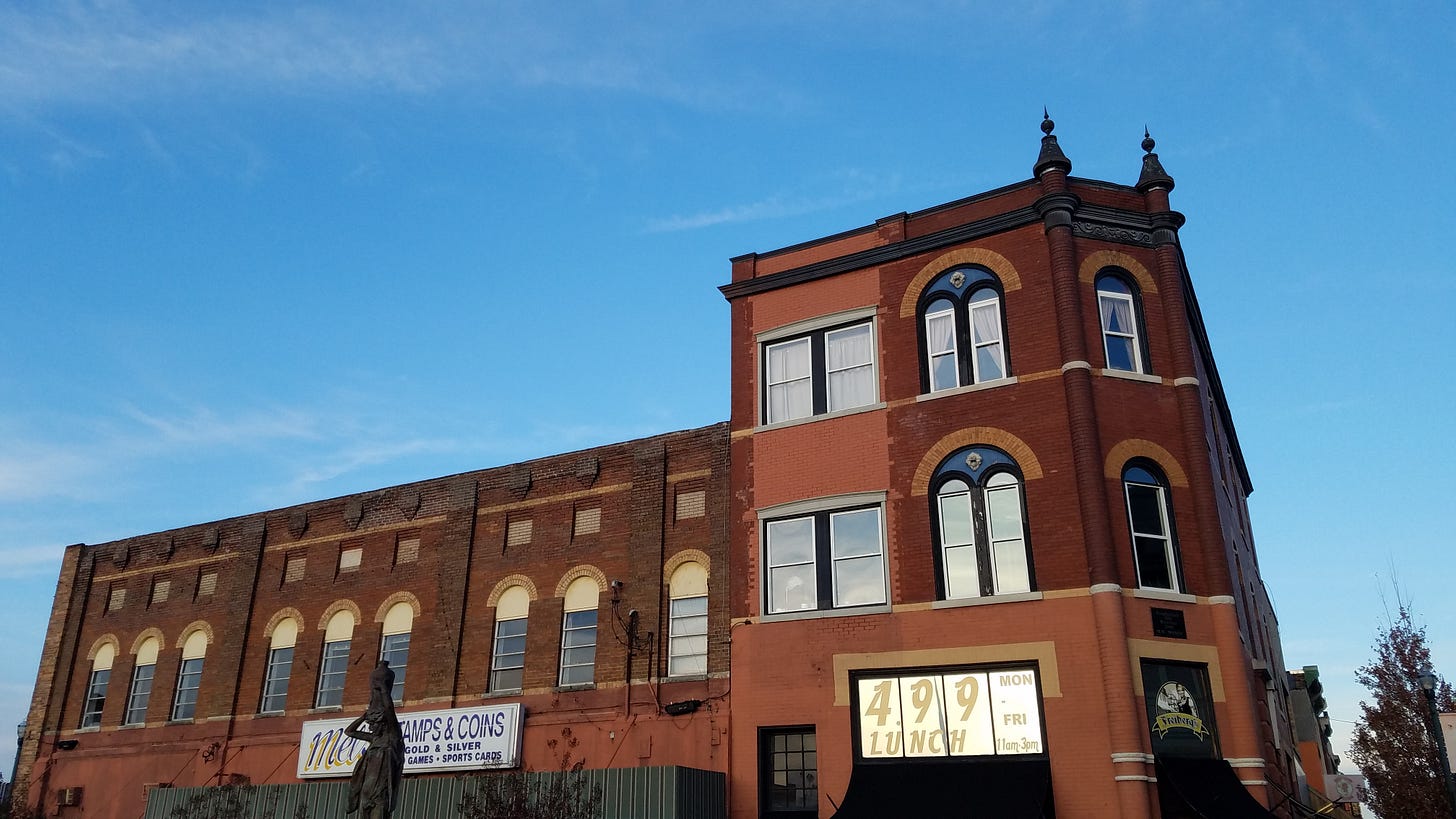 When it's time to embark on the half-day drive back to Atlanta, I feel full, as though I have actually spent time with my friends instead of simply allowing time to elapse and hoping that somehow, at some point during my stay, my presence mattered or brought joy to these beautiful people who have given me a second home.
On my last day in Johnson City, the sign at Pal's asks me to "improve daily."
I'm trying, Pal's. I really am.
Thanks so much for reading Get Lost! And if you're enjoying this newsletter so far, please use the button below to share it.