Water Valley, Mississippi
In Praise of Fry Sauce
Welcome to Get Lost, a newsletter by Real Queer America and Love & Estrogen author Samantha Allen. Named after the 1995 Magnetic Fields album, Get Lost explores unsung and undersung places, people, and texts through a personal lens. This first entry takes you to Water Valley, Mississippi. Enter your email below to subscribe and receive all future posts!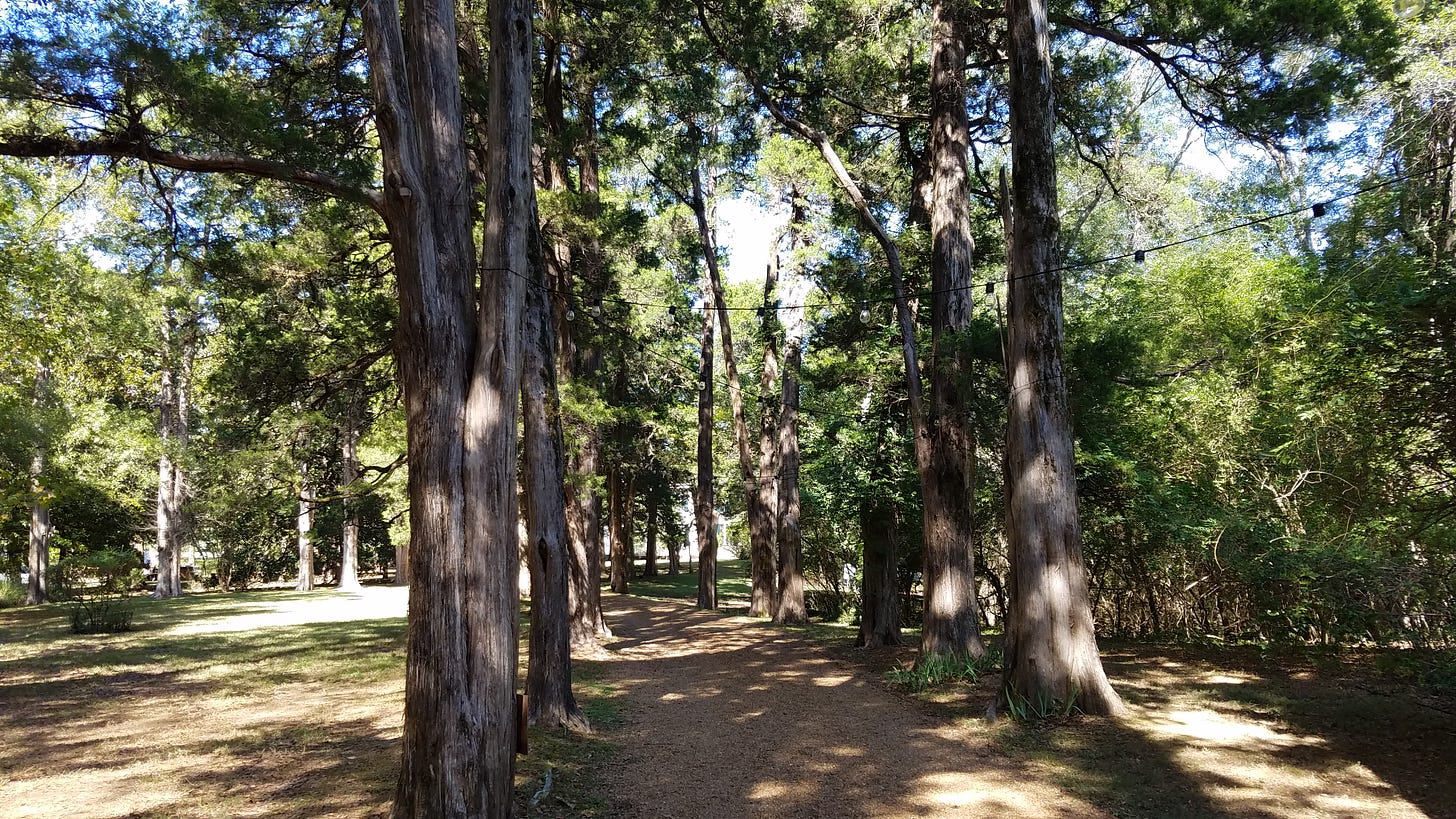 Fry sauce isn't magic. It's just a combination of ketchup and mayonnaise. Some eateries add a spice or two to the mixture, or even a dash of pickle juice for a briny punch. But as simple as fry sauce might sound, it is a richly rewarding condiment. The distinctive pink color draws in the eye. The thickness is ideal, clinging to the fry without dripping back down onto your plate. Your first bite is a conversion experience: Fry sauce is miraculous. The overwhelming sweetness of the ketchup is offset by the tanginess of the mayonnaise. The taste is rich, flavorful, and not too fancy.
You are eating french fries, after all.
I discovered fry sauce in its birthplace: Utah. Each chain in the Beehive State has its own secret ratio, but Burgers Supreme in Provo basically baptized me in fry sauce in 2005 and I have remained loyal to it ever since. Back then, I was deep in denial about being transgender and at the height of my faith in Mormonism. As a picky eater, I wanted to fix my bad food habits before finishing my first semester at Brigham Young University—because, come 2006, I would be living in the Missionary Training Center where the menu would be beyond my control. To my embarrassment, I hadn't even tried a hamburger back home. Looking back, Burgers Supreme spoiled me with its charbroiled perfection; my first cheeseburger might have been my best.
But the greatest gift Burgers Supreme gave me was fry sauce.
Beautiful, goopy fry sauce.
Almost 15 years later, I am in Water Valley, Mississippi sitting across from The Lesbian South author Jaime Harker at the Dixie Belle Café in the B.T.C. Old-Fashioned Grocery sampling a fry sauce named after her mother, Donna June. (Jaime's partner, Dixie Grimes, is head chef here—and the recipe mastermind behind The B.T.C. Old-Fashioned Grocery Cookbook.)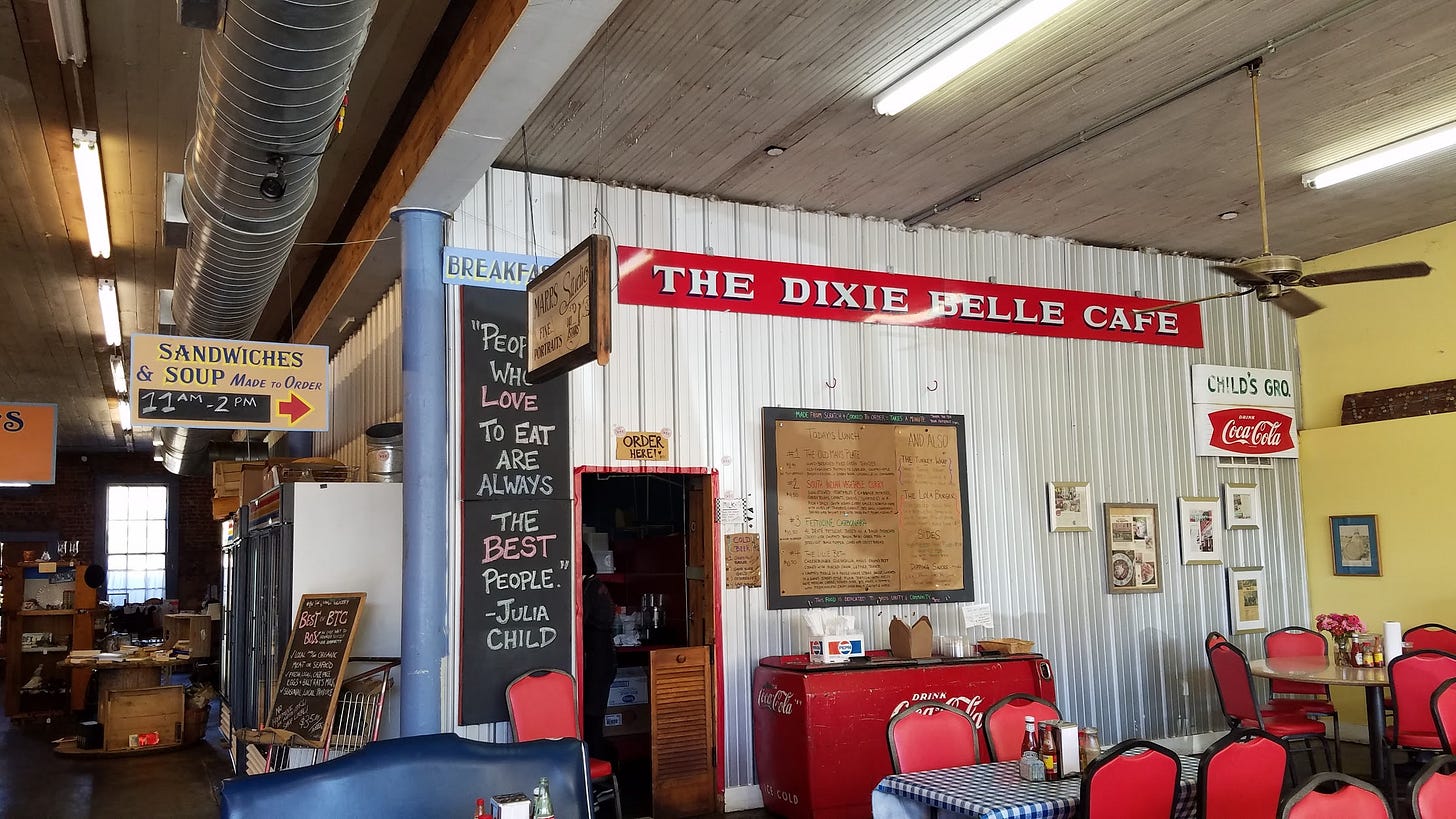 In the morning, Jaime and I drove to Water Valley together from nearby Oxford, taking the sun-soaked side streets where dogs roam freely like warrior kings. On our way down, the cotton fields and tree boughs whooshed by the windows at the brisk clip of Jaime's MINI Cooper, a small rainbow disco ball dangling from her rear view mirror, swinging side to side with each turn. When we arrived in Water Valley—a small, two-story row of small businesses clinging to a stretch of road—Jaime highlighted a handful of landmarks, half of them churches. Like me, she is a former Mormon. Churches, for us, are complicated spaces. Neither of us have joined another.
Jaime Harker is what I like to call a "you have to" person.
"You have to try the sweet tea with mint and honey."
"You have to get the hummus at Taresque."
"You have to see Square Books—and you should pick up a signed copy of Dispatches from Pluto."
A "you have to" person can be annoying if their recommendations are bad—or if they're just looking for vicarious validation of their own preferences. Not so with Jaime, who has excellent judgment and a genuine interest in bringing the joy of wonderful things into your life. It is smart to listen to a "you have to" person like Jaime: You simply surrender yourself to her, like an inner tube to a river, and let her carry you where she's going. For her, on the day of my North Mississippi visit, that destination is here—and it is queer: Jaime's nonprofit bookstore Violet Valley stands next to the B.T.C.: two small businesses, two prominently-displayed pride flags out front, women behind the scenes of both.
As we eat at a red upholstered booth in the B.T.C.—me tucking into a cheeseburger that approaches the greatness of Burgers Supreme, Jaime eating an elaborate quesadilla construction (daily special number four)—I make a concerted effort to slow down, clear my mind, and enjoy. A seemingly ubiquitous group of old men sit at the corner table—their corner table—sipping coffee and sweet tea while they wait for lunch to come out. (A sign above the counter warns that it could "take a minute.") A glimpse into the kitchen reveals a transgender pride sticker, among other LGBTQ imagery, stuck to a stainless-steel shelf.  This place is Mississippi at its finest: The aesthetics (and the pace) are mid-century, the politics are 21st—an unexpectedly delicious blend, much like mayo and ketchup.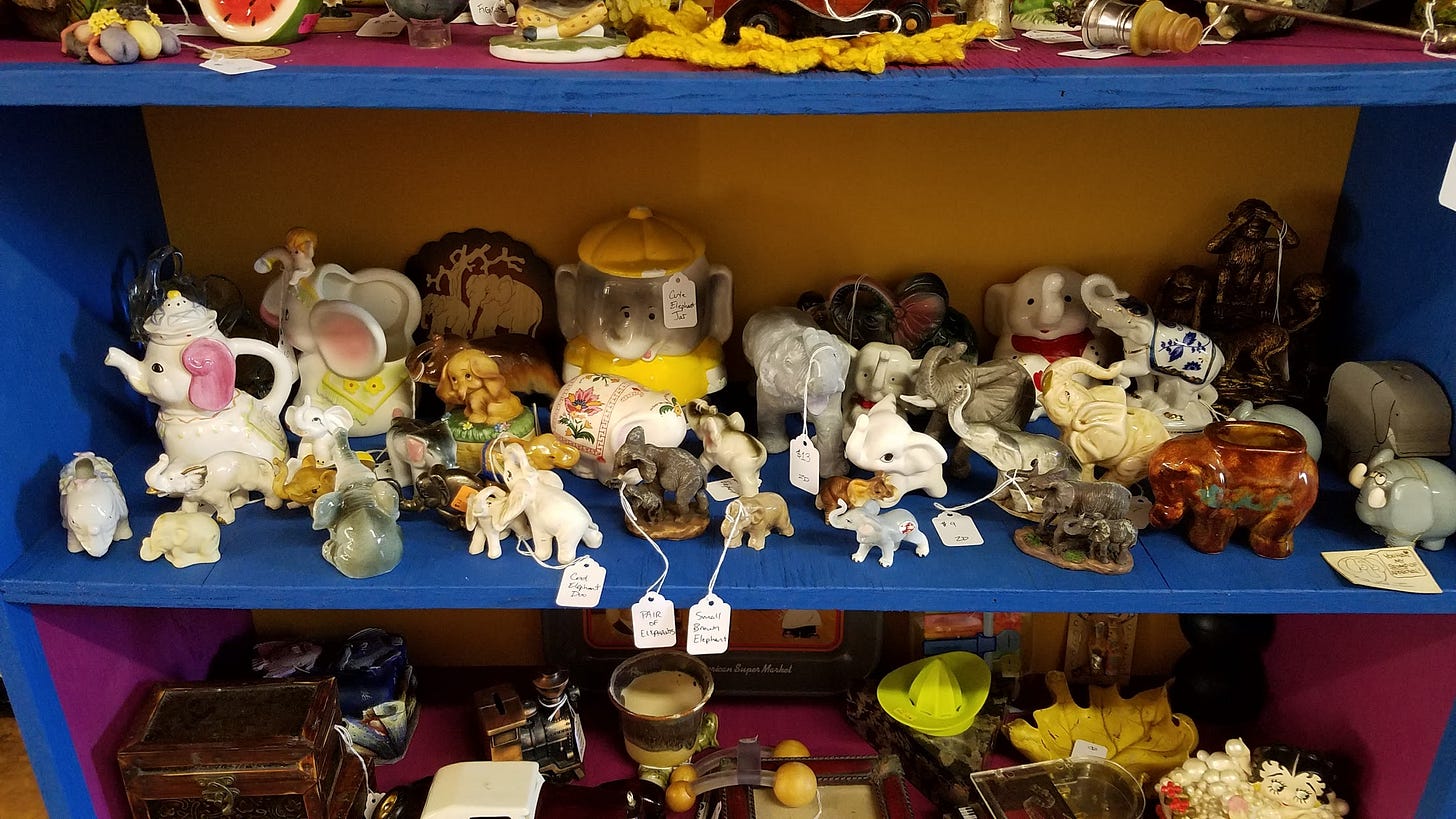 Before we ever met, Jaime and I went on separate but similar faith journeys at very different times: Her mission took her to Japan when I was just a child; mine took me to San Diego two years before Jaime and I both officially left the Mormon Church in 2008. She is now an out cisgender lesbian; I am a queer, transgender woman.
With new friends like her, I normally don't like to talk about my mission—it is my least favorite pre-transition memory, with a lot of competition for that title—but given the Venn diagram of our mutual life experiences, I open up and tell her what it was like to be a "guy" on a mission: Roughly a third of the young men were devoted to the cause, I said, another third were just trying to do right by their families back home, and the last third? The dilettantes? Who knew what they got up to, but they definitely weren't out in the Southern California sun knocking on doors. (I only heard rumors but I suspect they were a lot like those Mississippi dogs, going whithersoever they pleased.)
Through her mission, by contrast, Jaime was supposed to become a meek young woman, priesthood-honoring, and—perhaps most importantly—heterosexual.

Both of us failed to live up to expectations, I guess.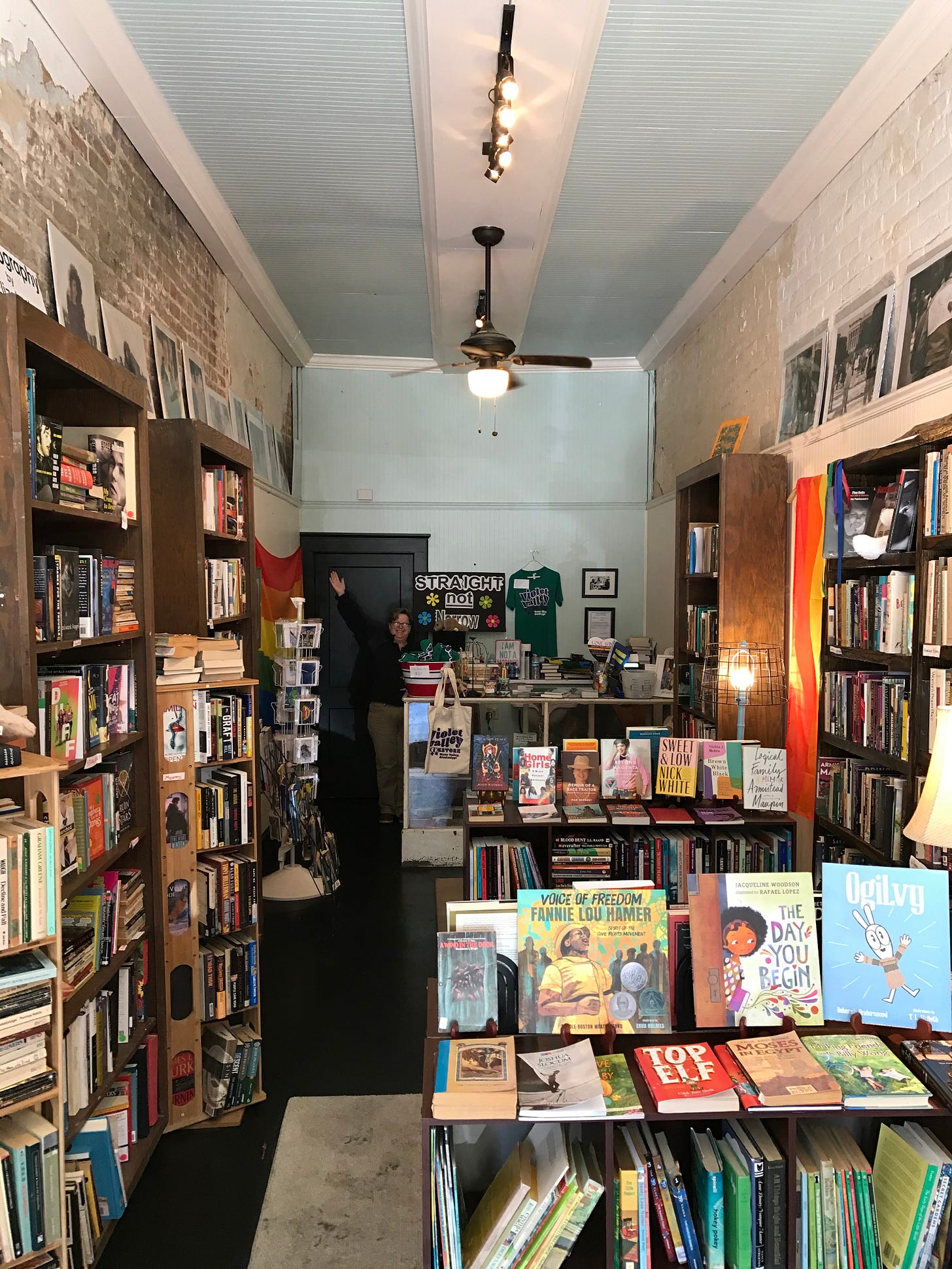 Now, Jaime runs a narrow bookstore with a large LGBTQ section where, before lunch, I was able to pick up a copy of Personal Foul, a romance novel about a female WNBA referee who falls in love with a star player, after briefly considering the 1984 Murder in the Collective, a mystery with a self-explanatory title.
"That's a great one," Jaime said, spotting it in my hand, her expression warm and open.
Of course, she used to recommend The Book of Mormon to people. We both did. With her short haircut and a uniquely Southern gender presentation that I like to describe as "relaxed," like a pair of jeans, it's hard to picture the woman sitting across from me at the B.T.C. wearing a floral-print sister missionary dress. (Then again, it's probably hard for her to picture me in a suit and tie with a crew cut.) Like me, Jaime remembers all the shame and fear of that past life—and how surreal it was when we left and that shame and fear disappeared.
"I had never felt that before," she says over our food. "That weight, lifted off of you"
"Donna June," for the record, tastes incredible. (I suspect Dixie adds some pickle juice to this particular fry sauce variant.) It serves is a perfect showcase for the café's addicting hand-cut fries, which vanish from my basket like the shame and fear of yesteryear. The older I get, and the more I travel, the less I am looking for thrills or jaw-dropping vistas. My favorite moments in life are made out of unpretentious ingredients like these: food, a friend, and a chat that can make a world of billions feel more like, well, a small town in Mississippi.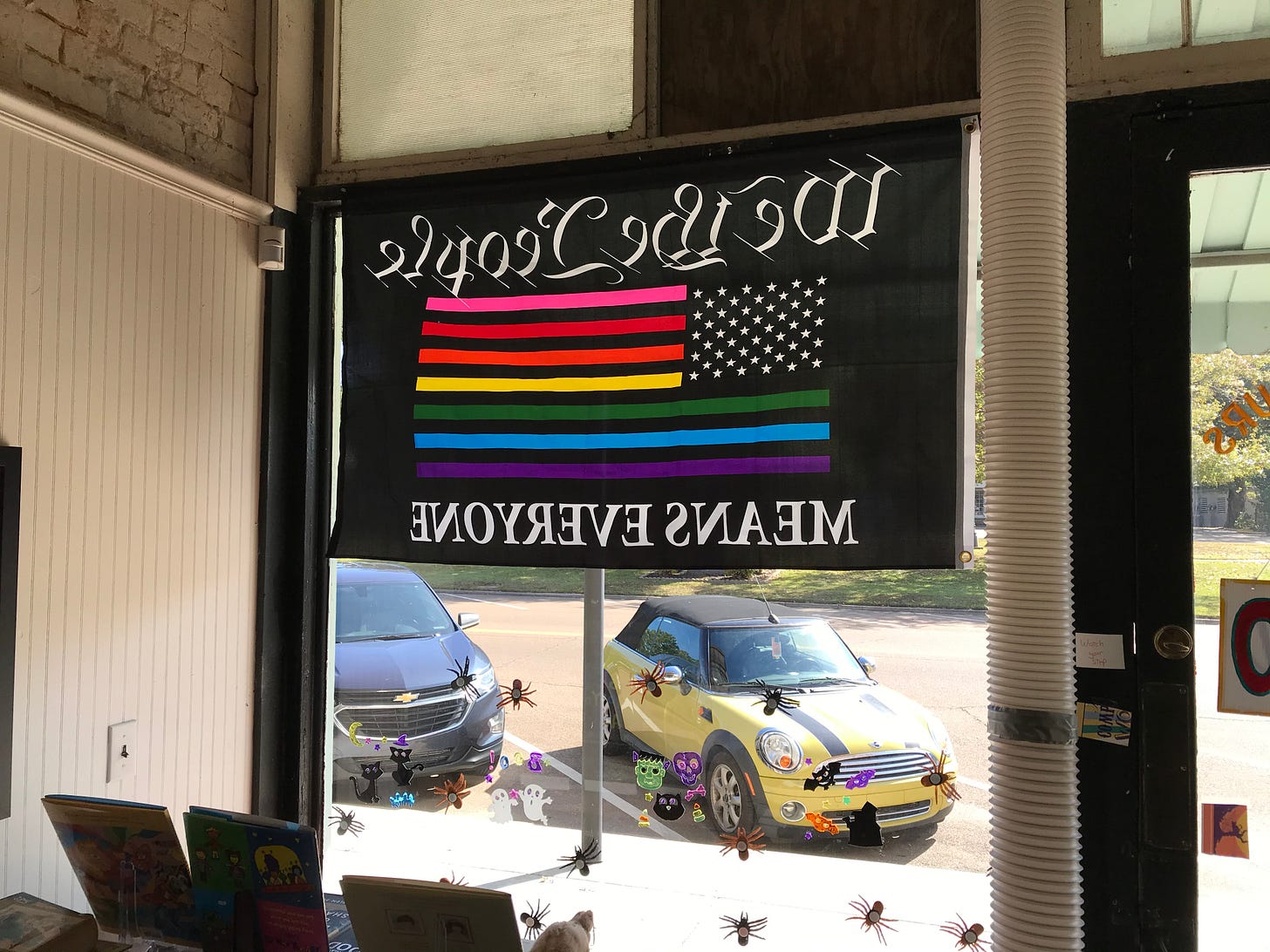 I think about the happenstance that led both of us here, two LGBTQ ex-Mormon authors eating french fries in Yalobusha County, dipping them in a condiment that was borne in Utah, popularized by members of our former faith, and arguably perfected by one Dixie Grimes. But that coincidence is just the spice in the rich simplicity of this hour. Fry sauce: You have to try it, here in Water Valley.
Thanks so much for reading Get Lost! If you enjoyed this post, you might also enjoy Real Queer America: LGBT Stories from Red States, which features a chapter on Jackson, Mississippi. Share using the button directly above and subscribe by entering your email in the field below.